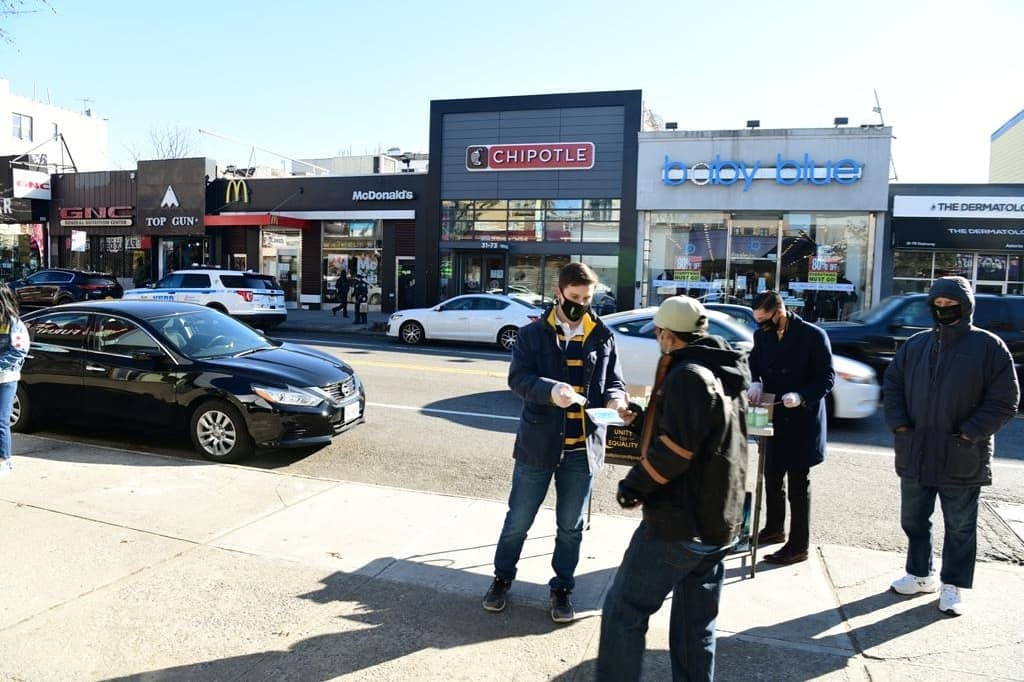 Unity for Equality Distributes Free Face Masks and Hand Sanitizers in Astoria, Queens
Posted on by Unity For Equality
With the rapid spread of COVID-19 and a significant rise in mortality rate, there has been a decrease in the availability of masks for community members across the states. Unity for Equality distributed approximately 1,000 face masks and hand sanitizers from 11 am till 1 pm on 24th January, Sunday, in the local community of Astoria, Queens, along with volunteers Matthew Poepoe, Weiyuan Liang, Dr. Anthony Pappas, and our Chairman, Mr. Neil Trivedi. 
With the closure of companies, businesses, and firms during the upheaval of the COVID-19 pandemic along with a significant rise in unemployment globally, purchasing even the fundamental and basic necessities have become unyielding for people of the lower-middle-class communities.
Similar to Unity for Equality, various non-profit organizations in the states were generous enough to donate food, clothes, masks, and hand sanitizers to those heavily affected by the pandemic. Other than the distribution of free masks in Astoria, Queens, Unity for Equality has also created a COVID-19 Relief Fund that aims at supporting the elderly, the minority communities, and the ones who face food insecurity during the pandemic.
For the first time in 20 years, Global Poverty is expected to rise at a disrupting rate and is estimated to have affected between 9.1% and 9.4% of the world's population in 2020 and is likely to push 150 million people into extreme poverty by 2021. According to the New York Times, healthcare workers across the state are still facing a daunting shortage of masks. However, with the arrival of the COVID-19 vaccines, there seems to be a sheer sense of optimism and hope for a change in the world's current situation. In 2020, Unity for Equality distributed over 4,000 masks to healthcare workers. And in 2021, we aspire to help and assist many more individuals and communities who were substantially affected by the pandemic negatively.