Chat with America's Legendary DJ Magic Mike – An International Career and a Captivated Audience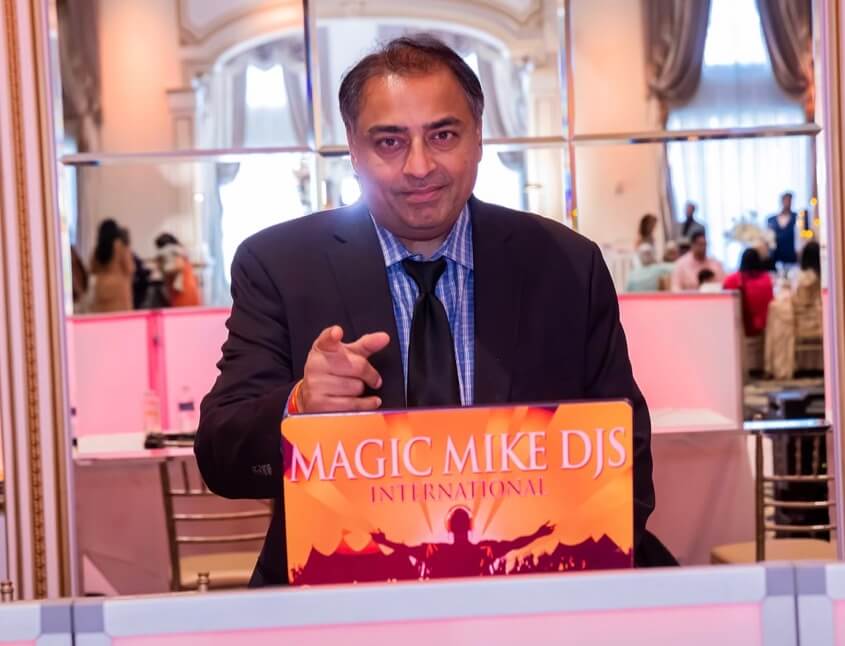 Unity for Equality has had the incredible opportunity to interview DJ Magic Mike, a stellar DJ who has been in the music scene performing at countless weddings, corporate events, and clubs. Putting the client's satisfaction first, DJ Magic Mike has created a well established career out of his DJing company in the New York/New Jersey area as well as almost every state in the US. Though, he also has global traction as he has performed in countries all over the world. Below is the conversation we had with him as he shared about his experience as an international DJ.
What do you do in the music scene, and how did you get started with your career?
So I'm a DJ. I do a lot of private weddings, corporate events, and nightclubs. I've been DJing for 40 years, and it's my only job. Because of my career, I've been able to travel to so many different countries through countless gigs at destination weddings. I'm fairly well known in South Asian communities, and I have a specialty in performing for mixed cultural events. As for how I got started, it was in high school. My brother was DJing as a hobby, and I became interested. When he left for college, I decided to actually make DJing a business. At a young age, I was working for one of the top mobile DJ entertainment companies in New York. Over the years, I've played a lot of events like parties for politicians like Hillary Clinton. I've had events for Bloomberg and Playboy Magazine, as well as other large corporations like IBM and Google. Just this past month, I performed at a party at Gracie Mansion.
How did you develop the style of music you play?
I wouldn't say I have a specific style. It's more like I play all of them, and I specialize in all kinds of genres. In general, I cater my performances towards what my clients want. If they want dance, pop, Bollywood, disco, or classic rock, I can play anything and go all night. It's my job to ensure my audience has a great time. Something cool is that a lot of events I do often have a mix of cultures that can be catered to. So, I've played for Italian-Latian weddings as well as any and all combinations of Jewish, Indian, Arabic, and more. On the more personal side, I love making remixes of songs and posting them on my YouTube channel, DJ Magic Mike NYC.
Your stage name, DJ Magic Mike, is amazing by the way! How did you decide on it?
It was back in the early '80s, and I was trying to come up with a DJ name. I'm Indian, and my real name is Mihir, which can be hard for people to pronounce. In school, they translated the name to Miguel, and it got shortened to Mike. I decided to add something cool in front of it and I settled on Magic Mike.
Funnily enough, I actually owned magicmike.com for a few decades before I sold the domain name to the movie company! And there's actually another DJ in Florida who goes by the same name as I do, though I started before him. Personally, I've done about 50 events in Florida myself. I should've copyrighted the name, haha. But, that's okay because we each have our own separate followings, and my community knows me for me.
What does life look like as an international DJ? What are some of the best events you've performed?
There's too many events I could choose from! Being an international DJ means I get to travel all over the world and play for different people. This Sunday, I'm actually going to play at Oheka Castle, which is one of the top wedding venues in the country. I've probably done about 15-20 weddings just at that venue alone. The first Indian wedding I played at actually brought in a live elephant! Plenty of subsequent Indian weddings also had elephants too. For other weddings, I've traveled to Chile, Spain, Hong Kong, Belize, India, Nairobi, and just about every island in the Caribbean. That's not even all of the countries; I've been pretty much everywhere. Even in the US, I've performed in about 40 states in the US, including Arizona, Colorado, and California. The majority of my events are in New York and New Jersey.
What is one of the most difficult challenges you've faced as a DJ? On the other hand, what has been the most rewarding part?
The biggest challenge was probably getting through the pandemic. My company definitely lost a large sum of money just based on money spent and money not earned because of the lockdown. It was almost two years of not having events to perform at, which was tough.
In terms of the rewarding parts, it is definitely all about the satisfaction of the client. As I mentioned before, I play a lot of weddings, or just about any event too, and it is such a great feeling to perform for an audience. I'm taking one important day in people's lives and making it a great memory they will never forget. My company has probably done more than ten thousand events in the past 30-40 years. One of the DJs on my team opened for Bruno Mars which was great, and we've opened for many other large artists in the past.. Though we have had our hiccups over the years, our track record has been fairly solid in ensuring everyone enjoys the performances. At the end of the day, it's all about providing a good time for everyone!
Is there anything you want to have accomplished or are excited about for the future?
Yeah, I just want to keep growing and keep putting out more music and remixes. I've recently hooked up with a company in India to release and promote music mixes on YouTube and other social media. And in general, I want to grow my presence on social media platforms like YouTube, Instagram, and TikTok.
To everyone out there who might want to pursue music as a career, what advice would you offer them?
I would say that this is an amazing time because you can get so much exposure through social media like Instagram and YouTube. If you do the right things to get people to see your talent, you can turn yourself into a star. It's amazing. These opportunities weren't present when I was younger, but it's a different world now. You don't have to depend on record companies anymore. The entertainment scene is a shifting business, so put yourself out there and do whatever you can to make yourself go viral. Don't go too crazy, haha. But anyone who has the talent can do it as long as they have the passion for it!